Kevin Fischer is a veteran broadcaster, the recipient of over 150 major journalism awards from the Milwaukee Press Club, the Wisconsin Associated Press, the Northwest Broadcast News Association, the Wisconsin Bar Association, and others. He has been seen and heard on Milwaukee TV and radio stations for over three decades. A longtime aide to state Senate Republicans in the Wisconsin Legislature, Kevin can be seen offering his views on the news on the public affairs program, "InterCHANGE," on Milwaukee Public Television Channel 10, and heard filling in on Newstalk 1130 WISN. He lives with his wife, Jennifer, and their lovely baby daughter, Kyla Audrey, in Franklin.

It's Friday night.

Time to unwind.

The weekend has finally arrived.

Let's put controversy aside for the rest of the work week and smooth our way into Saturday and Sunday.

Tonight, music from one of my favorite bands that has been performing with dozens and dozens of different musicians over a 40-year time period, Blood, Sweat and Tears.

One of their bios states:

"Their sound was bold, and it was all new when Blood, Sweat & Tears debuted on-stage at the Cafe au Go Go in New York in September 1967, opening for Moby Grape. Audiences at the time were just getting used to the psychedelic explosion of the previous spring and summer, but they were bowled over by what they heard -- that first version of Blood, Sweat & Tears had elements of psychedelia in their work, but extended it into realms of jazz, R&B, and soul in ways that had scarcely been heard before in one band."

Their second album was simply entitled, "Blood, Sweat and Tears."





As the 60's were coming to an end, this group produced a three million seller LP that won the Grammy for Album of the Year and several smash singles. It was an amazing success that commercially and critically could not be matched. However, the group kept making albums and continues touring to this day.

Their music was one-of-a- kind, pioneers for others that came later. BS&T as they affectionately became known welded rock, jazz, soul, R & B, blues and even classical music to deliver a sound never heard before on top 40 radio.

Think of BS&T and monster recordings come to mind:



You've Made Me So Very Happy





Spinning Wheel





And When I Die





More and More





Hi-De-Ho





Lucretia McEvil





Go Down Gamblin





God Bless the Child



But the group produced exemplary work that never made the charts that showed their extreme versatility and creative depth. I am happy to share some of those obscure and rare gems.

Our first track was supposed to be included on their first album, "Child is Father to the Man." Left out, the instrumental surfaced on a compilation LP decades later......"Refugee from Yuhupitz." (Images from Le Louvre Museum in Paris.



The group's third album contained a Steve Winwood composition with interesting lyrics and an interesting mix of musical styles. Classical music buffs will recognize shades of Bartok in "40,000 Headmen" performed at the Montreal Jazz Festival in 2006 by the ensemble's most famous and popular vocalist, David Clayton-Thomas.





Clayton-Thomas would sing on BS&T IV and soon after leave to pursue a solo career (but later return). There was no need for vocals on a fine rendition of a Herbie Hancock classic on the early-70's LP, "New Blood." Check out George Wadenius on the guitar on "Maiden Voyage."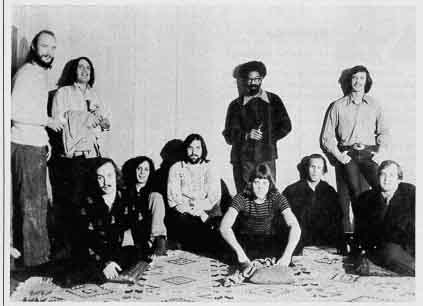 Over 42 years recording and performing live.

That's a long, long time in the music business.

I mentioned that after their phenomenal Grammy winning album, "Blood Sweat and Tears," the group's magic couldn't keep pace. Politics played a hand in the band's future. From that same bio referenced earlier:

"No late-'60s American group ever started with as much musical promise as Blood, Sweat & Tears, or realized their potential more fully -- and then blew it all in a series of internal conflicts and grotesque career moves.

The new group's music, and their use of horns, in particular, was more traditional, and it made them a little suspect among rock listeners. 'Spinning Wheel,' especially, was the kind of song that invited covers by the likes of Mel Tormé and Sammy Davis, Jr., and was the sort of 'rock' hit that your parents didn't mind hearing. And 'You've Made Me So Very Happy,' for all of the soulfulness of David Clayton-Thomas' singing, also had a kind of jaunty pop-band edge that made the group seem closer in spirit to the Tonight Show band than, say, to the Rolling Stones.

Compounding the uncertainty of just who and what Blood, Sweat & Tears were, and how cool they were, was a decision that they made in early 1970, to undertake a tour of Eastern Europe on behalf of the U.S. State Department. A few other rock bands had played Eastern Europe before, but never on behalf of a government, much less one that, at that particular time, was singularly unpopular with a lot of Blood, Sweat & Tears' potential fan base over the war in Vietnam. There was something horribly wrong with this picture in May 1970, but the group was oblivious to it.
The reason for the tour was a practical one, according to some sources. Clayton-Thomas was a Canadian with very uncertain visa status in the United States, and the State Department indicated that it would be a lot more agreeable about their singer working here if the band did them this favor. It was a coup for the administration, getting one of the hottest rock acts in the world to represent the government in the Eastern bloc nations -- but it also took place just at the time of the Kent State massacre, in which four students were shot to death by National Guardsmen, an event that Nixon chose to capitalize on politically.
And it got worse when they came back, after seeing the police in Bucharest, in particular, take a violent hand to any audience spontaneity; a statement was issued on the group's behalf, upon their return, trumpeting the virtues of American freedom -- this, one month after Kent State, with the murders of the students still an open wound and the reactionary rioting that had ensued in cities like New York (where the police had done nothing to stop a mob of construction workers from attacking anyone with long hair and invading City Hall) still fresh in peoples' minds. In June 1970, Blood, Sweat & Tears were the only act hipper than the Johnny Mann Singers putting out feel-good messages about the United States government."

Uncle Sam strikes again. His efforts failed miserably against John Lennon. My guess is Blood, Sweat and Tears will be popular as well for years to come.

We close with a performance of the band in 1992.

Good night.

Sleep well.

What goes up must come down.

Hi-de-ho.

Gonna get me some of that ol' sweet roll.

And have a great weekend.
This site uses Facebook comments to make it easier for you to contribute. If you see a comment you would like to flag for spam or abuse, click the "x" in the upper right of it. By posting, you agree to our Terms of Use.